WILDERNESS EMT
School of Emergency Medicine
This WEMT course, developed and provided by Jackson Hole Outdoor Leadership Institute (JHOLI), consists of the standard DOT EMT curriculum and the principles of Wilderness Medicine integrated into a month-long, 220-hour training. This course includes all the information in the Wilderness First Responder curriculum and expands each topic in anatomy, physiology, recognition and treatment, and the extended care principles and protocols as outlined by the DOT EMT curriculum.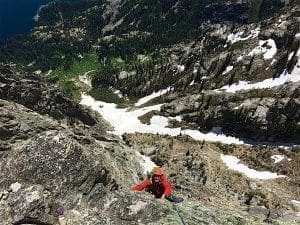 It is an intense, in-depth program designed for people who work, or plan to work, as professional mountain guides, outdoor leaders, professional pre-hospital medical personnel on fire departments, search and rescue squads, and ambulance crews, especially those working far from definitive care (e.g. on rural or wilderness rescue teams).
Learning takes place both in the classroom, outdoor settings, ambulance ride-alongs and Emergency Room clinical observations. Classroom learning, practical skills development, mock scenarios, quizzes, tests, clinical ER observations and ambulance ride-alongs are all critical components of the course and students' success.
Through a unique partnership between JHOLI, Teton County Search and Rescue, JH Fire/EMS and St. John's Medical Center students are exposed to the most up to date techniques of Wilderness and Urban Medicine. This program investigates how Wilderness Medicine is practiced and how patients are treated at the professional level by guides and outdoor leaders, transferred to and treated by organized SAR, transitioned to Urban EMS and finally to definitive care/Emergency Room facilities.
Upon successful completion of the course and all exams, participants receive a three-year SOLO WEMT certification, a two-year American Red Cross BLS certification, a two-year WY EMT certification, and a National Registry of Emergency Medical Technician (NREMT) certification. It is the responsibility of each student to find out how certification, licensure, continuing education and recertification work in her/his state of residence.
Upcoming WEMT Courses
No Classes Currently Available